Getting Started
To get started with Churni, please follow to steps below.
Create an account and start exploring Churni
Personalize your cancellation flow
Install Churni
Add integrations & notifications
Invite your team
Collecting feedback & Optimizing
1. Create an account and start exploring Churni
Sign up to create a new account and try it out for free with a 14-day trial.
You will be guided through the product with a quick tour and then invited to create a company.
2. Personalize your cancellation flow
To get started, let's take a look at your cancellation flow. Here you can start building your cancellation flow or use a template to help find some inspiration. We suggest you use a template to familiarize yourself with different capabilities.
Global structure
Your cancellation flow consists of a header and pages. The header will be displayed on all pages.
A page can contain blocks (questions, embeds, list, paragraphs).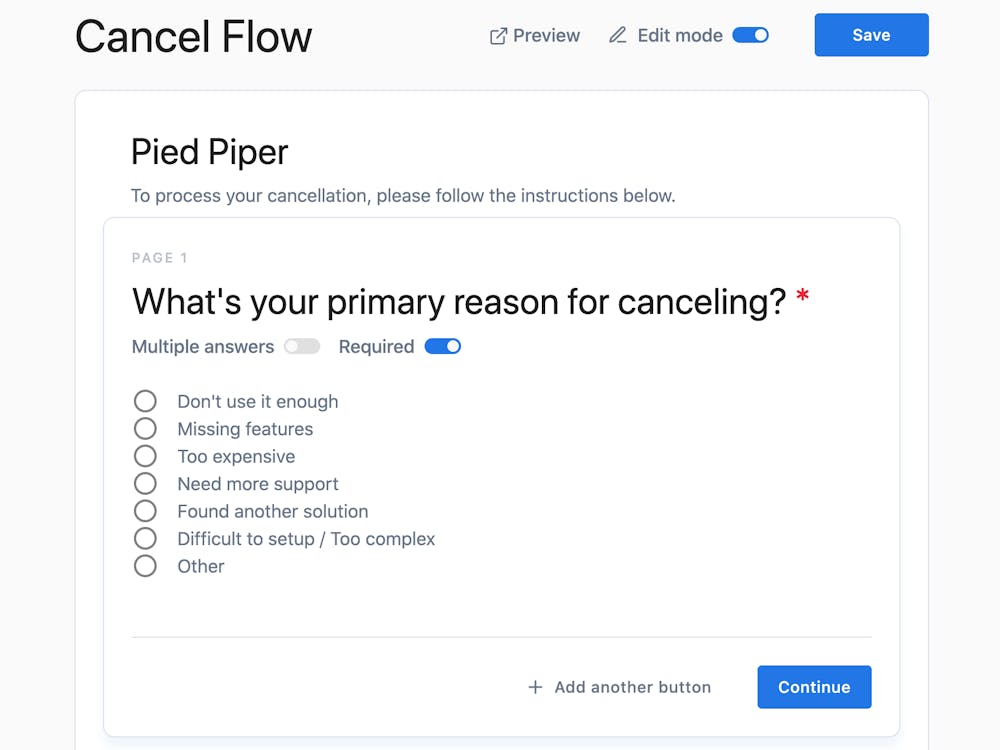 Typing / to open the command palette
When your cursor is between two blocks, an insertion line creates a new block and prompts the command palette
When your mouse hovers over a block, a menu appears on the left. You can also toggle the command palette from this menu
To go further, do not hesitate to consult these pages:
3. Install Churni
Churni requires a technical installation in order to redirect customers through your cancellation flow.
Follow these installation instructions to connect Churni to your cancellation button:
4. Add integrations & notifications
Add integrations to your cancellation flow. There are three types of integrations:
Webhooks & Zapier: Allows you to perform actions such as canceling a subscription, applying a discount, or enriching other applications with customer feedback.
Customer messaging apps: Integrate applications such as Intercom, Drift or Crisp into your application. Depending on your strategy, you can automatically engage your customers or let them contact you.
Slack: Be notified when someone cancels or accepts an offer.
Integrations are associated with an environment (production or testing). This allows you to test the integrations on your development/staging environment and disable them later to avoid messing up your production data.
5. Invite your team
To invite your team, go to Settings > Information and scroll down to the "Members Section". An "Invite" button opens a pop-up window with a link you can share with your teammates. When they click on the link, they will be able to register and join your workspace.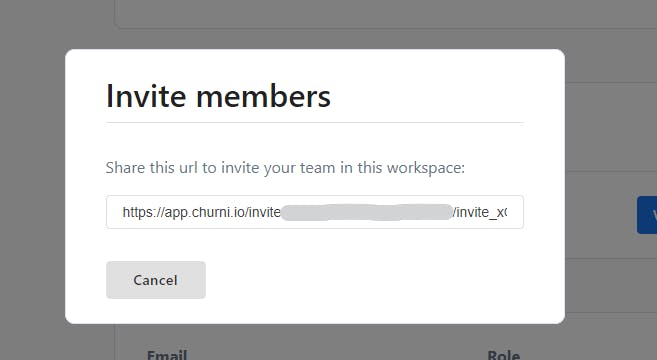 6. Collecting feedback and optimizing
As customers progress through your cancellation survey, your reports begin to fill out. Find out why your customers are leaving and track the results of your cancellation survey. Once your cancellation flow has started collecting details and data about your customers, refine and optimize!
Find out what works, what doesn't, and start building your experience based on different audience segments (plan type, customer lifetime).